Featured Artist Gallery
Alicia Kelemen
K4 Glass Art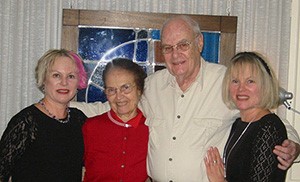 Meet the Artist
Alicia Kelemen
"My work is a study of texture, color and light, based in the simplest of geometric forms; it offers me the possibility of endless variations."  – Alicia
Two generations of the Kelemen Family — devoted to the magic world of glass
K4 captures the spirit of the Four family members over Two generations.
The Glassart part is a much longer story that sprouted roots in Caracas, Venezuela and thrives today with kilns in Asheville, NC.
Stunning, Original, Glass-Art.  Designed and Created by a trained Architect, turned Artist.
In 1983, Kelemen Kuatro Glassart opened a studio in Caracas, Venezuela. Five years later, with business expanding world-wide, daughter Beatriz set up a studio in Boston leaving her twin sister behind. You might think Alicia would soon leave for Massachusetts, too, but Father knew best and encouraged her to complete her theoretical and practical education first. So off she went to Oregon's famed Camp Colton to take part in the new program in Glass-Fusing. After mastering that, she wandered further north to join Pilchuck Glass School of Arts in Washington. Here, she met Professor Ludgwig Schaffrath who invited her to study at the Staatliche Akademie der Bildenden Künste in Stuttgart, Germany. Quite an honor.
Is there an end to this Wanderlust, you are thinking? Not yet. Alicia did finally make it to Boston but in 2005, the twins followed the Call of the Art World and moved to Asheville, North Carolina. There, Alicia continues her design work with her studio facing panoramic vistas of the mountains.
Alicia's classical training in architecture integrates her art with the decorative design of the living space. The years of drafting emerge in art forms of geometrical shapes, texture of materials and pure lines. She then sets these into decorative art for walls and murals, sculpture and home décor pieces as well as a complete line of Judaic Art. For commissioned work, the trick lies in knowing how to handle small and large scale formats.
Alicia's artwork has been exhibited in: Venezuela, Japan, United Kingdom, Denmark, Canada, France, Germany, Switzerland and The United States. Plus it appears to this day in The White House, Denmark's Permanent Collection Glass Museum, Juan Pablo II Cathedral, etc.
It's also a compliment to her hard-earned success that many well-known individuals own her work including international dignitaries such as The King of Spain and The King of Jordan plus top performers in the entertainment industry, to name a few: Arnold Schwarzenegger, Whoopi Golberg and Gerald Cafesjian.
Alicia's work has been exhibited at the Art Salons of the Arts of Fire in Venezuela winning many awards and accolades and in 1995 Alicia won the National Award in Glass with her fused glass water lilies series.
Alicia's Exhibitions include
Solo Exhibitions
Miya Gallery – Weaverville, NC, USA
" Two Generations " The Bender Gallery, Asheville, NC, USA
" El Arte del Vidrio " – Venezuelan Embassy, Washington D.C., USA
Glass Sculptures – Braulio Salazar Gallery, Valencia, Venezuela
Bolivar Hall – Miranda House, London, UK
Seducted by Transparency – de Havilland Fine Art Gallery, Boston, USA
Kelemen Kuatro – Tierra Adentro – Caracas, Venezuela
Selected Group Exhibitions
A Touch of Glass – The Gershman Y Galleries, Philadelphia, USA
Carolina's Got Art Salon – Elder Art Gallery, North Carolina, USA
Mosaic Arts International, Chicago, USA
North Carolina Art, Florida, USA
The 21st Century Tour of Glass Gallery 500, Pennsylvania, USA
Glass Art – The New Wave – Bainbridge Arts and Crafts Inc., Washington, USA
A.S. Expo International I – Tucson Convention Center, Tucson, AZ, USA
Skirball Museum – California, USA
Glass-Light-Water – Glasmuseum Permanent Collection – Ebeltoft, Denmark
The International Exhibition of the Glass Museum Ebeltoft, Denmark
Glass Works '91, Atlanta, GA, USA
II Exhibition of Plastic Artist – Paris, France
Musée Suisse Du Vitrail – Romont, Switzerland
The International Exhibition of Glass – Kanazawa, Japan
XXIII National Exhibition of Fine Art – Valencia, Venezuela
Gallery for Christliche Kunst, Munich, Germany
XV – XXIII National Exhibition of Fire Arts, Valencia, Venezuela
Selected Collections
White House Collection – Washington DC, USA
Glasmuseum Permanent Collection- Ebeltoft, Denmark
Juan Pablo II Church – Caracas, Venezuela
King Hussein of Jordan
Arnold Schwarzenegger
Venezuela Embassy – London, UK
Please shop our gallery, for our hand-crafted glass art. Remember, hand-crafted art is unique; therefore, no two pieces of art are identical. And we also welcome custom orders.
Alicia Kelemen – K4 GlassArt
No Results Found
The page you requested could not be found. Try refining your search, or use the navigation above to locate the post.